Designed out of necessity
This range of products is built to stand up to the demands of off site catering, designed out of necessity, when we identify that there simply is not a product on the market that fits the demands of the catering industry we go about engineering and manufacturing a solution.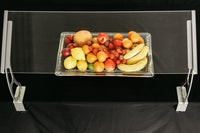 Buffet Sneeze Guards
Keep your customers safe, protect your food from cross contamination caused by coughing & sneezing.
Buy Now
Built for
- Caterers who need to set up food at a range of locations both indoors and outdoors
- Butchers who need a solution for clients collecting whole lambs, pig etc
- Resorts who set up pool side events and parties out of their main dining rooms
- Party rental shops who supply event organisers and caterers with essential catering equipment
- BBQ enthusiast who catering for community events
We cater hundreds of events annually, and need equipment that lasts and can easily be set up, stored and transported without taking up space. We love the sneeze guards!

Drew Zimmerman, PigOut Catering, St. Catharines
The sneeze guards are essential for our carving stations, they let the guests see the meat and don't allow germs to get on the food.

Matt Flosse, Meatings Catering, Ottawa
Every year we use these screens for our annual Cuvee event in Niagara Falls. Guests are able to watch the chef create the dishes at each station while keep food safe from sneezes!

Anil Rebello, Absolute Event Management, Toronto
First Wedding of the season! Finally! Huge thank you to Alan and Anne for coming up with these awesome sneeze guards for the buffet. First purchase to make the " new normal " much safer.

Matt Blundell, Redline BBQ Catering, St. Catharines
Made in Canada
We ship directly throughout the world, delivery within 5-10 days in North America *conditions apply. All of our products are Canadian made, using only high-grade North American Steel.